Thieves' World
Painter & Illustrator Walter Velez passed away on August 24th, 2018.
All pieces available from his estate are his original works.
The Face of Chaos
By Robert Asprin, 18" x 30," acrylic on canvas, 1983.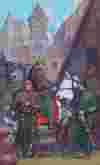 Free shipping for all orders within the continental United States.
Please CLICK HERE to email Jill Bauman to arrange international shipping or to insure your order.